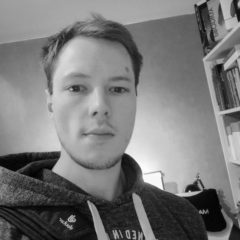 "Invite people into your life who don't look or act like you. You might find they challenge your assumptions and make you grow."
– Mellody Hobson
"Those who imagine anything… can create the impossible…" – Alan Turing
What is this blog about ?
Hey, this is Jan. Glad to meet you. 'sup? If you have questions feel free to contact me through the contact form.
I have decided to start this blog for two reasons:  that is, to explore and getting involved with what we call "the internet".
The second reason: to organize my thoughts in a coherent manner which I can then refer back to as and when the need to do so arises.
Since I have created this web-page there is still no clear goal or direction for this blog – so far nothing changed since 2001.
TESRenewal (Skywind), this is a non-commercial, fan made modification for The Elder Scrolls V: Skyrim that seeks to merge the amazing world of The Elder Scrolls III: Morrowind with the enhanced graphics and capabilities of Skyrim's engine. TESRENEWAL is currently NOT available. A release date and beta is not available yet. You are interested in volunteering?
Förderverein für zeitgenössische Literatur – NordBuch e.V., a association for literature in Schleswig-Holstein.
Other activities such as social-service work with youth to offer service, support and engage in fun- and political activities.
As for me? I would say coding (or breaking stuff apart), game design, politics, technology, pop culture.
My knowledge of the subjects listed ranges from a little to quite a lot, and tends to reflect the topics which are the flavor of a particular moment.
I've made a list, partly for fun, partly to help me understand, and, perhaps, focus in on some subjects a little better as time passes.
Authors
Anton Čechov, Albert Camus, Arthur Conan Doyle, Andrzej Sapkowski, Scott Lynch, Richard Schwartz, Brandon Sanderson, Harald Lesch, Jonathan Stroud, Orhan Pamuk, Patrick Rothfuss, George R.R. Martin, J.R.R. Tolkien, Johann Wolfgang von Goethe, Alexy Pehov, Bill Bryson, …
Books
The Kingkiller Chronicle by Patrick Rothfuss, The Black Company by Glen Cook, The Chronicles of Narnia by C.S. Lewis, The First Law Trilogy by Joe Abercrombie, The Gentleman Bastard Sequence by Scott Lynch, Harry Potter by J.K. Rowling, The Lord of the Rings by J.R.R. Tolkien, Mistborn by Brandon Sanderson, A Song of Ice and Fire by George R.R. Martin, The Stormlight Archive by Brandon Sanderson, The Malazan Book Of The Fallen by Steven Erikson, The Dark Tower by Stephen King, The Realm of the Elderlings by Robin Hobb, Das Geheimnis von Askir by Richard Schwartz
Do yous till play World of Warcraft? No. I've somehow lost the interest. There is no longer the feeling to somehow connect… "You're Getting Old!"
Games you ask? I'm huge fan of StarCraft, in particular all Blizzard Games. Your occasional shooter such as Quake.
Do still have the videos of boss-kill OOZY or raid 'Git Gud Whatever'? Certainly. I've uploaded most of them to YouTube.
I can't find you on my preferred social media site?! I've deleted, deactivated or never created one in the first place.
What good comes form deleting your Facebook profile? A social media company that only shows you what you like, based on your personal interested or connected interest with people with the same interest and view point, is creating a society unable to discuss issues. How can you solve a conflict if you feel uneasy and hide content or topics you might not like? Social media is generating a obsession of oppression.
Your website sucks. Like there is nothing new and never anything new! Thank you for your engagement!